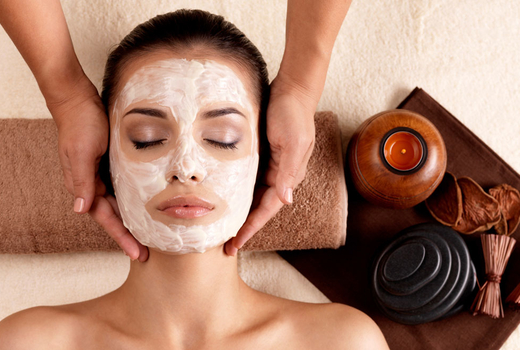 Organic Herbal Facial Treatments:
The safest and most effective skin care option.
Actually, the radiance that an organic herbal facial treatment provides is unmatched.
The result, it brings out the skin's suppleness and softness.
Above all, we only use natural & organic high quality clays, cleansers, muds, exfoliators, moisturizers & skin care products for our facials.
What are the variety of herbal facial treatments we offer? Below is a brief list of herbal facials that we currently offer. Each facial is customized depending on your skin type and skin care goals.
---
So, what Facial Treatments do I have to choose from? 
Anti-Aging 24 Karat Gold
Moisture Rich Rose Petal & Petal
Revitalizing Pumpkin
Detoxifying Kaolin Clay
Exfoliating and Smoothing Charcoal
Reviving Green Tea Facial
Youthful Caviar Radiant Facial
---
Please note, all of our facial treatments are non-invasive, natural and organic.
Sorry, We do not do extractions.
Having extractions done can be harmful to the skin because they can weaken the skin, decrease skin's elasticity, and cause broken blood vessels.
---
What are the steps for the perfect facial, you ask? 
Cleanse:
Starting out, we will addresses your skin type and prep your skin with a double ultra facial cleanse to create a clean canvas.
Steam:
After we obtain a clean canvas, we will use organic herbal steam on the face, to open up the pores.
Exfoliate:
Next up, a organic herbal exfoliation treatment is then applied to the skin that will exfoliate, release congestion and clarify and brighten the skin. 
Exfoliating the top layer of skin helps to reveal younger skin, as new skin cells are created in the dermis.
Massage:
Additionally, you will receive a heavenly facial massage and / or acupressure which stimulates your skin, encouraging blood flow and   lymphatic drainage.
Mask:
A herbal mask is applied to the skin which will stay on for approximately 15 minutes.
Depending on your skin type, Our skin care specialist will choose from a hydrating mask, seaweed mask, clay based pore-minimizing and tightening mask, or a soothing mask to reduce redness.
During this time, paraffin will be applied to the hands or feet.
Special Add-ons:
Additionally, we may choose to use high frequency or LED lights for additional benefits.
High frequency and blue LED lights can reduce bacteria for acneic skin and red LED lights can encourage collagen stimulation in the skin and reduce redness.
Hydration:
In conclusion, an organic moisturizer for your skin type, ultra rich and hydrating or light and soothing will be applied and a SPF sunblock will be added as a finishing touch.