A slow rhythmic massage designed to relax and stimulate!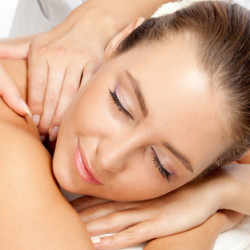 Swedish Massage is one of the most common and well-known massage techniques.
A slow rhythmic massage designed to relax and stimulate oxygen flow in the blood.
It uses a firm but gentle pressure to improve the circulation, ease muscle aches and tension, improves flexibility and enhances relaxation by applying pressure to the superficial muscles layers.
Swedish Massage is known to help with reducing joint pain and stiffness, and has also been known to help those with osteoarthritis.
Those who undergo this kind of massage also benefit from stress reduction, increased circulation, and increased flexibility and mobility.
*Ask about CBD Swedish Massage for added calmness, relaxation and well-being. 
Kerry
Great 1st experience!

"This the perfect little hideaway. The service was great & people were very nice, made you feel right at home. I will definitely
go back."
Lorainne
Great massage spa & easy booking!

"I received a spa finders gift certificate and chose N.J. Massage & Spa because it was close to where I live and the prices are very reasonable. I booked my appointment easily online. I had an herbal facial treatment and a Deep tissue massage. I will definitely be going back again."
Gwyn Cornish
Fantastic Massage and Spa

"This is a really nice place. Private with a relaxing atmosphere. Love their treatments!"
Jer
Excellent service!

"My wife went here for a deep tissue massage and she loved it! very nice place, the owner was very accommodating. you will feel at home! highly recommended!"
Barbara Stein
Qualified, Knowledgeable, Capable, Professional and Effective

"I went to NJ Massage and Spa for massage and steam treatments. It was really wonderful! The healing steam treatments also helped me with my chronic upper respiratory condition."
Heather Yates
Absolutely Wonderful!

"I have been to New Jersey Massage and Spa many times, and they never let me down. They are consistent with delivery of services, and as pleasant as a cool breeze on a hot day."
Lori Rylan
A beautiful gem!

"I was so happy to find this little spa online. I had no idea that this place was even here. Exceptional service!"
Trina Nelms
A little Oasis in the heart of Cresskill, NJ

"I was pleasantly surprised that a small upstairs massage & spa provided me with a beautiful spa experience. I enjoyed a relaxing aromatherapy massage as well as an organic herbal steam that made my skin glow for days. I live so close that I plan coming back frequently"
15 Broadway
Suite 201 (second floor)
Cresskill, NJ 07626
Tuesday – Saturday
10am – 7pm
By Appointment Only